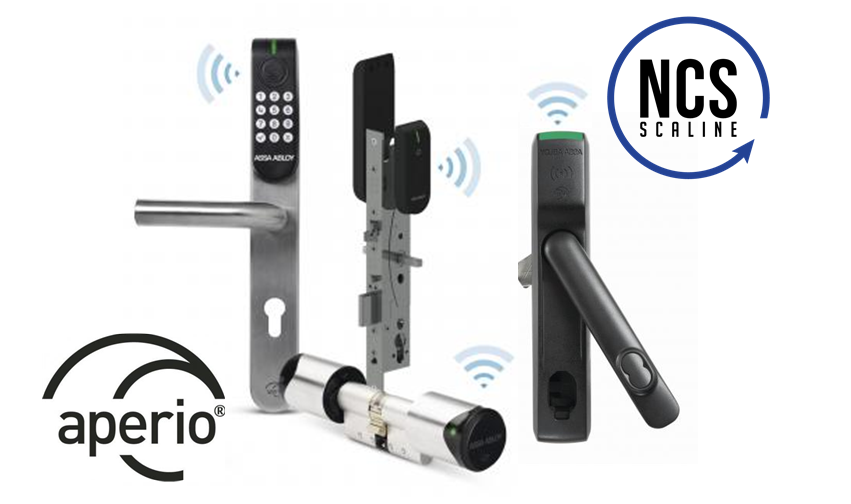 NCS® integrates Aperio® Online solutions in its SC4x5™ controllers
The SCNET4™ Version 3 system of NCS® now supports up to 4 online Aperio® locking devices on a single SC4x5™ controller.
With the integration of the Aperio® online protocol directly within the controllers, the SCNET4™ system provides a complementary solution to its classical access control functions through a simple, reliable and intelligent mean of door control while guaranteeing their real time management even if the communication link with the central server fails.
Aperio® solutions work around a wireless protocol (IEEE 802.15.4) ensuring the communication between online locking devices and hubs (connected with the SC4x5™ controller through a RS-485 bus) on  which they are paired. These devices being equipped with an RFID card reader, they support identification technologies compatible with the ISO/IEC 14443-A and B standards, amongst which MIFARE® Classic®, MIFARE DESFire® EV1 or iCLASS® and iCLASS Seos from HID Global. They therefore guarantee a secured usage of  identification tokens which is completed by a full AES encryption of the wireless link between the hubs and the Aperio® devices; in this way they fit with the strong security management solution brought by the SECURE™ option of the SCNET4™ Version 3 system.
Whether working with C100 electronic cylinders, E100 handles, L100 locks or KS100 server cabinet locks, the SC4x5™ controllers ensure a strong secured link between the access control system and the Aperio® devices. With the possibility to distribute those devices indifferently from the number of hubs connected to the controllers on a single RS-485 bus, each controller manages the paired products, ensuring a bidirectional communication of events and commands. Also offering the possibility to extend the function provided by cylinders and handles using the AS100 door contacts, the system can monitor all door states and provide a mean for the complete surveillance of connected accesses.
With the integration of this solution on your SCNET4™ system, you can guarantee a unified door management for both standard cabled doors and online locks while ensuring lasting security and reliability of your access control system.
NCS and Scaline are registered trademarks of National Control Systems S.A.
Scaline International is a division of National Control Systems S.A.
SC4x5 and SCNET4 are trademarks of Scaline International.
Aperio® is a registered trademark of the ASSA ABLOY group.
MIFARE, MIFARE DESFire are registered trademarks of de NXP B.V.
HID, iCLASS et SeoS are registered trademarks of HID Global in the United States and other countries.